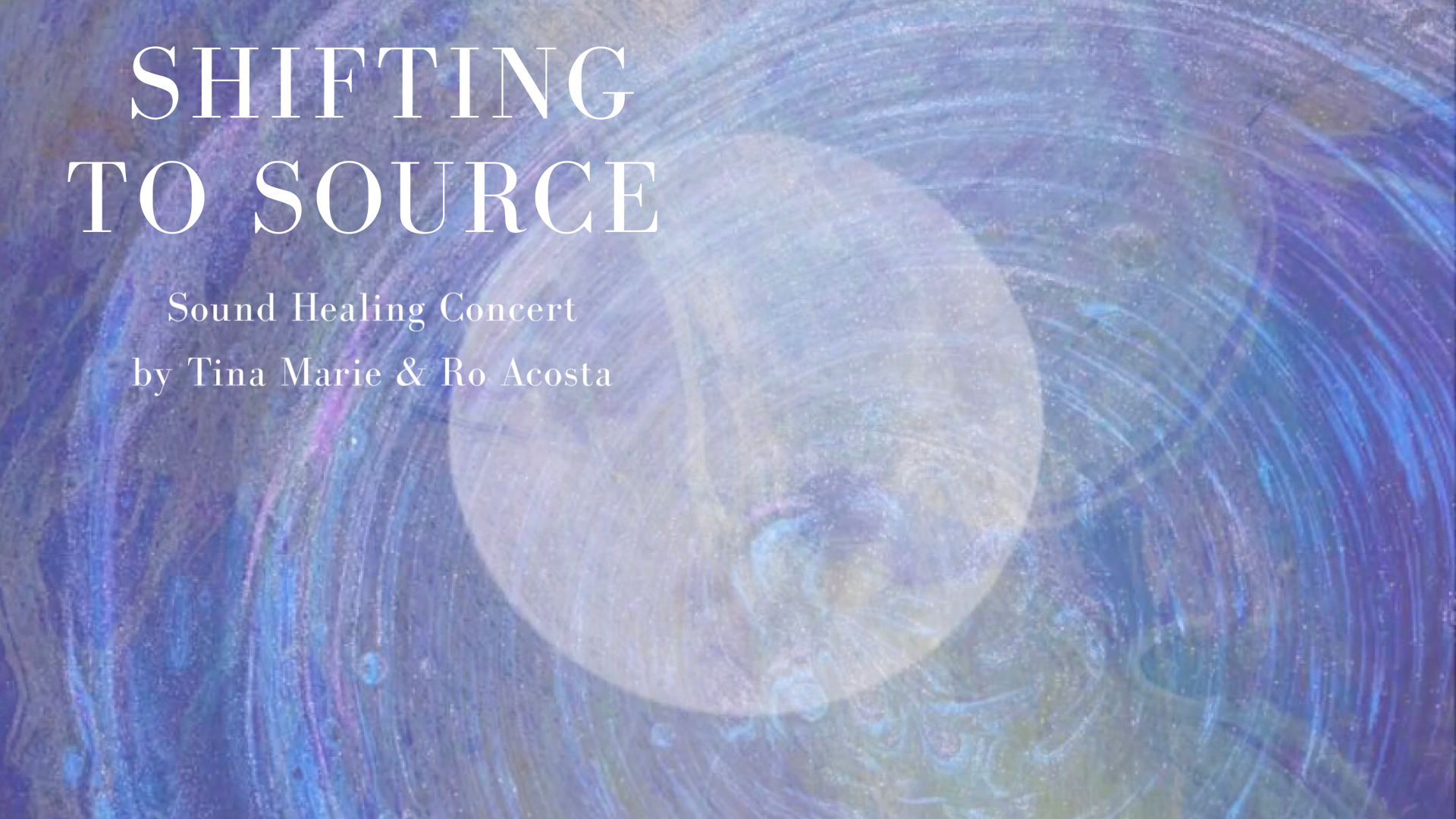 Sound Healing concert offered by Tina Marie & Ro Acosta

With warm hearts, Tina Marie and I would like to invite you our double sound healing concert for the full moon of November 29th.

This is a special time for all of us, and we believe strongly that the power of sound healing experiences can raise our vibrational energy, shifting almost instantly our emotional, physical, and mental states. Elevating ourselves to a higher frequency we can therefore protect our energetic being and connect with higher emotions, like joy, peace, abundance, faith, and love. Ultimately to achieve good health.


—————————

Here a little description of the benefits of Sound healings. Source: mindlikewaterwellbeing

"Sound healing helps to restore harmony and balance to the body's biological rhythms and processes, re-establishing correct functioning of the Endocrine system (the glands) which releases powerful healing hormones such as endorphins, serotonin, and melatonin into the body. Other natural chemicals are also released, such as nitric oxide, vital for the body's health and vitality.

It is now widely accepted and confirmed that most illnesses are stress-related. Therefore treatment methodologies that promote relaxation and help reduce stress can be a very effective way to prevent and treat illness. It also enables an individual to relax deeply, achieving an altered state of consciousness which triggers the body's healing response.

Sound healing journeys are based on the principle of "sympathetic resonance". Resonance is the vibratory rate of an object and sympathetic resonance is when one vibrating object causes another to vibrate in harmony with it, or match its rate of vibration."

————————————

We will create a flow through the evening using a wide range of sacred instruments; you will be washed energetically with gongs, tibetan singing bowls, crystal bowls, drums, Kochi bells, our voices, and many more. The combination of these instruments when played together have the power to modify and slow down the brain waves rhythms, activating alpha and theta states which are the ideal for optimal performance, to achieve a profound state of relaxation, where one can restore the normal vibratory frequencies of the cells in our body, connecting with our deepest intuition and subconscious mind.

Join us through this very special and magical journey, our very last of this year!

Practical Info:

Date: Sunday, November 29th

Time: 16.30-18.30

Where: Masnedøgade 20, 2. sal, 2100 Østerbro, København. (Salig)


NOTE: This is an almost all silent event.

Doors open at 16.15 Kindly be on time.

We start sharp at 16.30. Doors close at 16.30


PRICE: 285kr

Register by Mobile Paying to 26 27 31 20

*Tickets are non-refundable. If you can't make it because of Covid-19 we will refund.

Limited availability

*It is required to pay to secure your place.


What to Bring:


Your own yoga mat, pillows, blankets, and a bottle of water. Come in comfortable warm clothes.

Face masks must be used to move around in salig. Not while you are in your place.


There is enough space at the venue for a limited amount of people so that we can follow the following COVID-19 guidelines.

-bring your own facemask

-2 meters distance.

- avoid physical contact, for example, hugs, kisses, handshakes.

- sneeze or cough on your elbow.

- please do not show up if you during the last 14 days have been in contact with a person contaminated with COVID-19 or if you have been contaminated.

- Kindly, do not join if you are illm or feel you have been contaminated, or if you within the last 14 days, have been close to people infected with COVID-19.






*Disclaimer*
Your use of these sessions indicates your understanding of the following:
The information and resources contained on these workshops are not intended to assess, diagnose, or treat any medical and/or mental health disease or condition. The use of these sessions does not imply nor establish any type of therapist-client relationship. Furthermore, the offerings obtained from it should not be considered a substitute for a thorough medical and/or mental health evaluation by an appropriately credentialed and licensed professional.